Just before Christmas, D.C. Mayor Muriel Bowser implemented a COVID vaccine mandate throughout the city for nearly every indoor space, with a few exceptions. You can view the mandate here.
As a part of the National Pro-Life Summit check-in/registration process, Students for Life, with the help of Omni hotel staff, will be checking proof of vaccination or qualification for an exception. If you are vaccinated and possess proof of vaccination, please plan to present it upon entry.
The Mayor's order includes a religious exemption, paired with a negative covid test taken within the last 24 hours, for individuals that will be acknowledged and accepted at the National Pro-Life Summit. Vaccine exemptions for a strongly (or sincerely) held religious belief will be accepted in writing or orally by any attendee to whom this might apply to during the registration process. If you have a religious exemption please be prepared to present in writing or to orally declare that you have a sincerely held religious belief that prevents you from getting vaccinated.
We will be offering free 15-minute rapid covid testing on site for those utilizing the medical or religious exemptions. Attendees will self-administer and self-interpret their test results and verbally report their positive or negative to SFLA. SFLA is not a medical organization and does not store or share the private medical information of attendees. Testing will be offered starting Friday, January 21, 2022 from 9am – 9pm and starting at 7am on Saturday, January 22nd in advance of registration, through the close of the event. It is highly recommended that you test in advance on Friday if possible, to avoid delays in the check in process at the event.
Regardless of vaccination status, a mask requirement will be in place for National Pro-Life Summit attendees in accordance with D.C. regulation.
The 2022 National Pro-Life Summit will be held in Washington, D.C., at the Omni Shoreham hotel. The address is 2500 Calvert St. NW.
All of the general sessions and workshops, lunch, and a snack break are included with registration. This conference package is valued at over $150 per person!!
We recommend flying into Ronald Reagan National—DCA Airport. From this airport, there is subway service that can take you right to a hotel near the conference location. Other choices are Washington DC/Dulles—IAD or Baltimore/Washington International—BWI.
The easiest way to get to the venue from the DCA airport is to take an Uber/Lyft/taxi. If public transportation is preferred, the Omni Shoreham is a 5-minute walk from the Woodley Park-Zoo/Adams Morgan Metro Station along the Red Metro Line.
To use the Metro from DCA, take the Yellow Line towards Mount Vernon Square to Gallery Place Chinatown Metro Station. There, you will switch to the Red Line towards Shady Grove. Get off at the Woodley Park Zoo/Adams Morgan Metro Station stop and use walking directions in your GPS to arrive at 2500 Calvert St. NW.
If you are traveling from IAD or BWI airports with a group, check out the rates for a Super Shuttle by visiting their website.
To plan your trip via public transit using WMATA's trip planner, click here.
The hotel is a 5-minute walk from the Woodley Park-Zoo/Adams Morgan Metro Station on the Red Line. Times and schedules for the Metro and bus can be found
here
.
Yes, please call Tina Whittington at 540-834-4600, and she will be happy to take your registration over the phone.
The Omni Shoreham's parking is valet only. The hotel is offering a rate of $55 per car for this event; just let them know you are there for The National Pro-Life Summit. Parking is not guaranteed and is on a first come, first served basis.
There are several small lots within walking distance of the hotel. You can reserve a spot in advance through Spot Hero.
Busses are to arrive at the back of the hotel via the Calvert Street Entrance. When you reach the gate, please press the button on the call box and the gate will be opened. Proceed to the Parkview entrance of the hotel. There is no bus parking available at the venue. Bus parking information can be found here.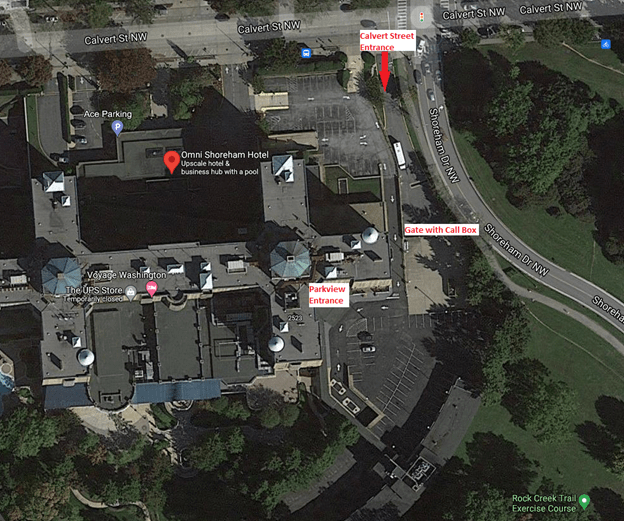 If you need to cancel your registration for any reason and require a refund, send your notice of cancellation via email prior to January 1st to receive a full refund. Half refunds will be given up to the end of day on January 9th, after which no refunds will be offered.
On the day of the Summit, the student rate goes up to $75 and the adult rate goes up to $100.